ZNIPER Zextant
Product.Nr.: Z2111007
Manufacturer: ZNIPER-Archery
EUR 104,00
incl. 19 % Tax
delivery time 2 - 10 Tage
---
There are no reviews for this product
product description
The ZNIPER Zextant plunger comes in 4 sizes for a perfect fit on your bow with either stick-on or bolt-on rest.
The Zextant has 3 specifically desined performance springs with different tensions to
ensure optimal adjustment.
In addition to its exceptional quality, the ZNIPER Zextant plunger is the first plunger with adjustable screw-in depth and spring tension via rotating micro-clicks.
Therefore, the ZNIPER Zextant only needs to be screwed into the bow once and then can be set up easily each time with the specific number of rotating micro-clicks.
Sizes
The ZNIPER Zextant is offered in four different sizes. The size of the Zextant is defined by the screw-in depth.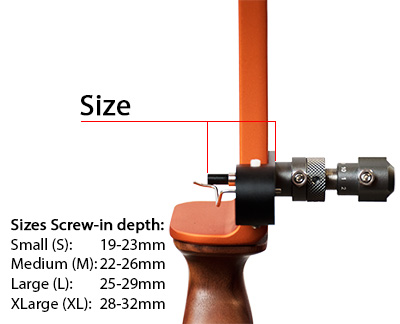 Small (S): 19-23mm
Medium (M): 22-26mm
Large (L): 25-29mm
XLarge (XL): 28-32mm
Content
- Zextant plunger (pre-assembled) incl. the new enhanced Button Pin Version 2
3 springs of different strength
(soft – pre-assembled, medium strength, hard)

Soft spring => 1,2 -3,9 Nm
Medium spring => 3,8 -7,8 Nm
Hard spring => 7,5 -11,8 Nm

1 replacement pin fitting the plunger in the new enhanced Version 2
These operating instructions
2 spacers: 1x 1mm and 1x 2mm to reduce the screw in depth of the plunger when needed
The following tools:

1x Allen key 1,5mm
1x Allen key 2,0mm
1x Clamping Tool to tighten Zextant and grid system
Key features of the ZNIPER Zextant
Both plunger depth and plunger pressure can be set in a reproducible grid pattern without having to repeatedly loosen and tighten the plunger for the plunger depth.
Lowest tolerances and the best design for an incomparable shooting experience
The Zextant is delivered with three springs of different strength

Soft spring => 1.2 – 3.9 Nm
Medium spring => 3.8 -7.8 Nm
Hard spring => 7.5 -11.8 Nm
The mean pressure adjustment of the spring is 0.04Nm, 0.05Nm or 0.06Nm depending on the spring strength
The springs were specially developed and manufactured in Germany for the ZNIPER Zextant

The basic components of the Zextant are made of stainless steel or 6061 aluminum. All aluminum components are anodized in titanium color.
Every component of the Zextant is available as a spare part and therefore the Zextant is very sustainable and environmentally friendly.